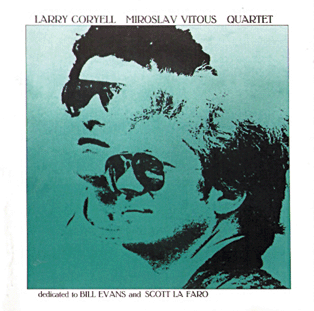 Larry Coryell & Miroslav Vitous Quartet - Dedicated to Bill Evans & Scott La Faro - CD jp 1021
Larry Coryell

Guitar,
Miroslav Vitous
bass
Titles:
Some Day My Price Will Come, Nardis, Solar, Some Other Time, Corcovado, Autumn Leaves, My Romance, Stella By Starlight, The Peacocks
"Quartet" is not exactly the most logical title for a duo album. But it is absolutely appropriate in this case because, in fact, four musicians contributed to the music - one played guitar, one played bass and two others supplied a great deal of the inspiration.
As Miroslav Vitous explains: "This album was inspired by, and is dedicated to, Bill Evans and Scott La Faro, for they are symbols of musical communication for us, and we are proud to keep this way of playing in existence".
The rare understanding and high level of mutual inspiration that existed between Bill Evans and Scott La Faro in the three short years they worked together has become something of a legend in Jazz. And in taking this exceptional rapport as the inspirational source for an album, Coryell and Vitous were presenting themselves with a formidable challenge. But they are more than equal to that challenge, thanks to their deep commitment, their responsiveness to one another's playing and their sterling musicianship, Coryell, whose previous duo partners, live and on record, have included Philip Catherine, Emily Remler, Michael Uraniak and Airto, says he has always appreciated the value of playing with just one other musician. "In a way", he says, "it is the perfect Jazz ensemble, because you work to just one other voice and, if the vibrations are right, you can develop a most potent conversation and sound like a small group".Larry Coryell and Miroslav Vitous were born thousand of miles apart - Larry in Galveston, Texas on April 2nd, 1943, and Miroslav in Prague, Czechoslovakia on December 6th, 1947 - but their musical personalities are very close. They first
played together in the Herbie Mann band in 1967 and since then have worked together in groups led by Chick Corea, Billy Cobham and John McLaughlin."In 1986", Larry recalls, "we toured with Bireli Lagrene and it was really then that we began to realise that we had a good enough understanding to be able to work as a duo".
Most of the tunes on this album were featured on a European tour which the duo made with Dutch keybord player, Jasper van't Hof just prior to the record date. Two exceptions are "Some Other Time" and the opening track, Some Day My Prince Will Come. This was the last tune to be recorded and it was the first time that Coryell and Vitous had ever played it together.
"We needed a waltz for the album", Larry says, "and this is such a good tune. We did just two takes. One the first, Miroslav played good - but I was tired. On the second take, he played even better - and I'd got some energy back". This song, originally from Walt Disney's "Snow White And The Seven Dwarfs", was first recorded by Bill Evans, Scott La Faro and Paul Motian for the December 1959 Portrait in Jazz album. On the out chorus here, as well as in some of the other selections, Larry uses the chorus device very effectively to bring new textures into the music.
The duo's version of the Miles Davis composition Nardis, which was also done in two takes, includes a section taken from the original Bill Evans Trio version recorded in February 1961 for the Explorations album. Larry plays 12-string guitar on this track. "On the first take", he says, "I made too many mistakes - so I altered my part a little bit to make it work better, and we both came up with better solos. Miroslav really shows his respect for Scott on this tune".
Solar is another Miles Davis theme which surfaced initially on his 1954 Walkin' album. It was first recorded by the Bill Evans Trio for the Sunday At The Village Vanguard album in June 1961. Here the theme is played in unison by Larry and Miroslav and later they play improvised lines of such intensity and intricacy against each other that they speak eloquently of the remarkable rapport which has developed between them since they first met 20 years ago.The fourth track comes from the Bill Evans Trio's Waltz For Debby album , recorded live at the Village Vanguard in June 1961. There are two compositions with the title, Some Other Time; this is the Camden-Green-Bernstein tune and one which Miroslav had never played before.Says Larry: "I had played the tune a little bit during the time when my former wife, Julie, was singing with me. And during a sound check for a concert in Sweden on the tour, I just happened to run through it. Miroslav loved the tune and he learned it in the studio".Corcovado, the Antonio Carlos Jobim song, has no special connection with Bill Evans or Scott La Faro, but it served admirably to provide a change of rhythmic pattern and to give Miroslav an opportunity to demonstrate his remarkable arco technique.The sixth track is the one which gave Larry the greatest satisfaction. "For me it is a little masterpice", he says. "We played it every night on the tour and we really built something on it. Miroslav shines all the way through and the creativity level is very high". A much-favoured vehicle for Jazz improvisation because of its beautifully logical construction, Autumn Leaves is another selection from the Bill Evans Trio's Portrait in Jazz album. Of all the compositions associated with Bill Evans, My Romance is one of the most memorable, because Bill really made the tune his own. The first of many recordings of the piece was a solo version in September 1956.
Stelly By Starlight, another standard much enjoyed by Jazz musicians, featured on the 1963 Bill Evans album Conversations With Myself. Larry plays the introduction and Miroslav bows the melody. The tempo on the duo's version of the tune is much more leisurely and relaxed than is usually the case. The final track The Peacocks is a composition of pianist Jimmy Rowles which Bill Evans recorded with Eddie Gomez and Eliot Zigmund in 1977. It is a most attractive minor ballad which ran to a number of takes, "so that we could have the luxury of settling on the most inspired version", Larry says. The take you hear here comes to you by courtesy of that fine English vocalist, Norma Winstone. When Larry Coryell and Miroslav Vitous were on tour with the Vocal Summit (of which Norma is a member) earlier this year, they played the takes to Norma. "We had already decided to use another take", Larry says, "but Norma said this was the best one. And she was right because it really does have the best feeling, even though some of the things I play on it I didn't really like. But Norma is such a sensitive listener and a great musician and her judgement was absolutely correct".
Larry sees this album as a natural step in his own artistic evolution - an evolution which has embraced a wide variety of musical contexts and associates. He feels that he was breaking new ground with much of the improvised material. "There were a lot of phrases that I don't think I've ever played before on record", he says. But, typically, he gives a large share of the credit fo the spirit, energy and vitality of the music to his partner, Miroslav Vitous. "I think he played the best he's ever played. Nothing he does is predictable and
working with him is always a challenge. He is not one of those bass players who simply lays down a comfortable carpet you can relax on. He really tests your musicianship. He is a great musician and a great friend".
Europen musicians can often bring something extra to the music, in Larry's view. "They have a classical tradition and they play with so much commitment because they really want to make you listen to them. I think Miroslav's high esteem for Bill Evans and Scott La Faro really comes across in the music and I suspect he had been wanting to make this kind of album for a long time".
Interestingly enough, Miroslav had a dream about Scott La Faro the night before the recording. This must certainly have been an inspiration to him. Larry, on the other hand, was rather less fortunate with his nocturnal subconscious. "I dreamed about Ronald Reagen", he says. Which just goes to show how resistant to unhappy influences the creative spirit can be.
(Mike Hennessey)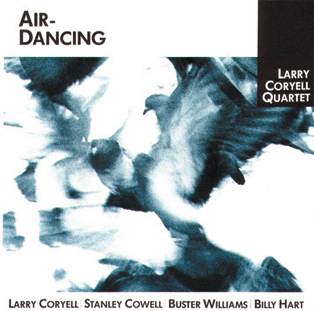 Larry Coryell Quartet - Air Dancing - CD jp 1025
Larry Coryell

guitar


Stanley Cowell

piano


Buster Williams

bass


Billy Hart

drums



Titles:

Prayer for Peace, Air Dancing, Impressions, Sienna "Welcome, My Darling", Phapsody in Blue, Zimbabwe
Dual Force
The disc, which was recorded in the late spring 1988, offers eloquent testimony to that fact. In the company of jazz masters Stanley Cowell, Buster Williams and Billy Hart, Larry soars through a fervent set of boppish group originals and timeless classics. While the traditional rhythm-section format establishes the foundation here, the music erected upon it is anything but predictable.The quartet recorded this performance on June 4, 1988, at the end of a month-long tour of Germany, Austria, Switzerland, France, Portugal and Spain. The group had performed together at irregular intervals since 1985. So the ensemble playing was tight, and the improvisation was superior. "I loved this group", Larry said recently. "I revered both the musicianship and friendship of each member. We overcame a lot of obstacles on the road to play this music together".
Like most gifted artists, Larry is a relentless, self-critic. Because of the live nature of this recording, he has expresses reservations about the guitar tones on a couple of cuts here. Yet, after repeated listening, I find his criticism unduly harsh. This issuperior post-bop Jazz, created by four of the finest musicians performing today.
The record opens with Prayer for Peace, a popular Stanley Cowell composition which sets the standard for the music, that follows, Williams and Hart form a critical mass of rhythmic energy that propels both Larry and Stanley through extended examinations of the composition's theme.
Larry calls Buster William's Air Dancing "probably the best tune on the record". Opening with a dark and stately arco bass figure, the tune show-cases Hart's commanding brush work and Williams' deep, rich tone and flawless sense of time. Larry's opening solo is a perfect balance of sound and space; it is the work of a master musician at the top of his form.
Meanwhile, in both his brief solo and inventive comping, Cowell demonstrates why he is considered one of the finest pianists in jazz today. John Coltrane's Impressions is taken at a blazing tempo, with exhilarating results. "The tempo was way up there", Larry said. He recalled that the pop-star Sting was in town that night, and members of his band were in the audience. "If you listen very closely, you might hear Branford Marsalis' saxophone", Larry said. "He sat in with us, but we didn't have a microphone for him. This was such a burning version of Impressions, I left it in". Listen, too, for the marvelous effect of Larry's harmonics over Buster Williams' closing bass statement. And check out the audience's enthusiastic response when the tune roars to its conclusion. Larry's right: This one is a keeper.
The lilting spirit of Brazil adds an extra dash of romance to Cowell's sprightly love song, Sienna: Welcome, My Darling. The guess here is that Sienna is an upbeat ode to a definitely requited love.The Works of George Gershwin play an important part in Larry's solo concert performances, so it isn't surprising that he included a Gershwin tune in the Magnètic Terrace set liest. In this right, Rhapsody in Blue became a flanger-driven, flamenco-inflected tour de force. A solo effort until the rhythm section checks in for the powerful finale, this arrangement of Rhapsody in Blue is a perfect vehicle for Larry's astonishing chops. Unlike other speed players, who substitute raw technique for substance, Larry both bums and has something important to say.I first heard the Coryell composition Zimbabwe on the all-acoustic Tributaries, an album he recorded in 1979 with John Scofield and Joe Beck. As Larry notes, this version prossesses a raw
energy that isn't found in the earlier recording. Also, Larry's relectric guitar tone is darker and more burnished here. His driven solo is a smoldering series of cascading runs and ringing harmonics.Like Air Dancing, Buster Williams' Dual Force, which closes the set, is a tune the group had wanted to record for some time. "The band was familiar with the material, and we really wanted to burn", Larry said.And burn they did. For my money, small group jazz doesn't get much better than this.
(Jeff Davis, Columnist & Critic)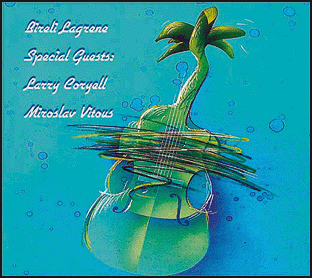 Bireli Lagrene special guests: Larry Coryell & Miroslav Vitous, CD jp 1048
Bireli Lagrene
guitar
Larry Coryell
guitar
Mirosav Vitous
bass
LARRY CORYELL
Became well-known overnight, after his legendary appearance in a quartet with vibist Gary Burton, Steve Swallow bass, and the inexhaustible, humourous Bobby Moses at the 1967 Berlin Jazz Festival: Larry Coryell, one of the founders of what is nowadays called Jazz Rock or neutral Fusion. Larry Coryell was always a trenendously cultured, exceedingly professional composer, teacher and guitarist and the scene is unmaginable without this 'born in the forties' jazz guitarist. But most of all the name of Coryell is associated with the rebirth of the acoustic guitar, on six or twelve strings, masterly, as with DiMeola or McLaughlin, but nevertheless different, with a sensitive feeling for that which makes guitar playing so particularly beautiful.
MIROSLAV VITOUS
Born 1947 in the Czech Capital, who learnt the violin from six to nine years and then the piano until fourteen, felt the 'pull' of the west: on 8th October 1966 the US took him in a young, gifted with genius, jazz maniac, whose love was hooked to the bass. Whilst in Europe he had been on stage, plucking and playing practically everything from classic, mainstream and dixie-jazz and then at a competition organized by pianist Friedrich Gulda in Vienna he won the first prize as bass-player and an entrance to the famous Berklee College of
Music in Boston, Mass.
LARRY CORYELL
He turned down an option with Cannonball Adderley's group at that time in order to complete his studies at Berklee: within eight months he had his diploma, went in summer 1967 to New York and immediately played with Art Farmer, Freddy Hubbard and in the quintet with Bob Brookmeyer and Clark Terry on the trombone and trumpet respectively.
And then things began to move, Miles Davis heard him with the group, signed him on, just shortly but with transfer qualifications to Herbie Mann. And then Stan Getz (1970) appeared in his biography, the group 'Weather Report' that he co-founded in 1973, Herbie Hancok, Jack DeJohnette, Airto and Chick Corea.
Even in his debut album as front man 'Infinite Search' he demonstrated his head-strong wish to find new ways to free himself of prototypes such as Scott La Faro or Gary Peacock: what is known as avantgarde jazz today is, without him, practically unthinkable.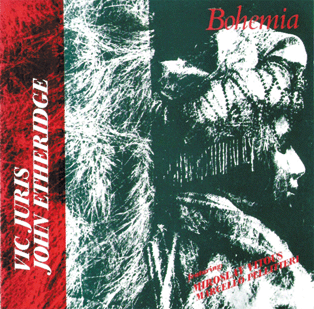 Vic Juris & John Etheridge featuring Miroslav Vitous, Marcello Pellitteri - Bohemia - CD jp 1023
Vic Juris guitar
John Etheridge
guitar
Miroslav Vitous
bass
Marcello Pellitteri
drums
Vic Juris guitar
John Etheridge guitar
Miroslav Vitous bass
Marcello Pellitteri drums
Titles:
There is no greater love, You've changed, Con Alma, "L", Georgeiana, Chips, A keen bat, Sim
Vic Juris'
first album "Roadsong" came out in the US 1978 with a large cast of musicians and his musical companion of long standing, the keyboarder Barry Miles. Seven years later he, Vic Juris, was to show his dexterity on the strings for the first time in Germany as solo partner to the Alsatian guitarist, Bireli Lagrene, on his first "live" album on the international scene, together with the Englishman Diz Disley on the rhythm gitar. Juris - an outstanding musician who knows how to fuse the influence of Montgomery, Martino, Coryell and others into his own long existent style resources. Vic is back now, ten years after his US debut, more mature, not so adamant about virtuosity and in an enormously productive constellation - firstly to participate in a "Four Country Meeting" with his British guitarist colleague John Etheridge, the bass-player from Prague who went to the US in 1966, Miroslav Vitous, and the Italian drummer Marcello Pellitteri and - secondly for the acoustical duo.
John Etheridge,
born 1948 and therefore five years his senior is, it would seem to be superfluous to say, known to insiders above all for his performances with guitarist Martin Taylor and with Stephane Grappelli but also for his recordings with Grappelli and Yehudi Menuhin. This does not mean, of course, that that is the extent of John's field of activity: as with so many guitar-players of his generation he began to play at thirteen after being impressed by Hank B. Marvin in the "Shadows", soon moved on though into the jazz camp of Montgomery, Pass and Reinhardt, then opening up into rock guitar music around Hendrix, Beck, and Clapton, replaced Allan Holdsworth in "Soft Machine", performed with the aforementioned violinists, but also with Didier Lockwood, Darryl Way and Ric Sanders, founded his own group "Second Vision" in 1980 and since then belongs to England's elite guitarists between Jazz and Rock. Finally John amply demonstrates, in duo with Vic, what he has to offer on his classical nylon string guitar: eminent, modern Jazz, in reality as it has just been developed on this instrument, as a contrast to Juris Ovation steel string performance.