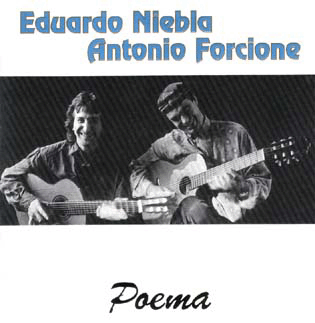 Eduardo Niebla & Antonio Forcione - Poema - CD jp 1035
Eduardo Niebla nylon string guitar
Antonio Forcione nylon nd steel string guitars
Rufus Philpott bass guitar
Paul Clavies percussion
Simon Lee percussion and clapping
Titles: Poema, Superlatino, Ronnie, Primavera, Sunrise, Snow, Haciendo Camino, The Long Winter
CD jp 1035: Den Versuch, Jazz und Flamenco zu verbinden, hat es oft gegeben. Nur selten indes kam eine so gelungene Synthese heraus wie bei diesem Gitarrenduo. Der in England lebende Italiener Forcione verkörpert in seinem Spiel die jazzige, der Spanier Niebla die folkloristische Note.
Begleitet von dezenter Rhythmusgruppe liefern sich die beiden ein ebenso hitziges wie einfühlsames Saitenduell. (Rhein Main Presse)

EDUARDO NIEBLA & ANTONIO FORCIONE, Spanish and Italien guitarist respectively, were one of the undisputed highlights of this year's Glostonbury festival. Flamenco, jazz , classical - all interplayed with almost telepathic understanding, all performed with robust, loving passion and great melodic fire. Quite simply brilliant.
Antonio Forcione
has represented Italy in several international guitar festivals, playing solo and in duo with some of the top names in the guitar world such as Barney Kessel, Martin Tayloy, Vic Juris, Juan Martin, Jorge Morrel and John Etheridge.
He plays regularly in a duo with pianist Huw Warren and toured in the May 1992 international guitar festivals in Switzerland and Italy with the Croation composer Ljubo Majstorovic (synth-guitar). Performances as a trio with John Paricelli and John Etheridge have served as a further outlet to his matchless versatility. 1992 also saw him for the second time in the Noel Edmund's Roadshow on BBC television, as well as appearing on MTV television.
Keen to explore every theatrical and creative aspect of performance as a whole, he has become one of a trio with Paul Morocco in the musical comedy theatre production, "OlÈ" acting and arranging music. They won several prizes at the 1992 Edinburgh Festival (including the British Gas Award for Excellence, a Daily Express prize for best new act of the year, as well as being awarded one of 1992's top performers by Time Out magazine)."One of the most rousing sounds on the Fringe ... " (Time Out). They have appeared on BBC and MTC television in England and Scotland and took Germany by storm in the 1992 Kˆln Comedy Festival which resulted in a TV show for German ZDF television. Most recently they did a live TV performance for NDR TV in Hamburg, Germany, as part of the 1993 New Year Festival.
Antonio has written the soundtracks for several films and documentaries such as the "Heron Film". "Balasteros" and the "Rough Guide to Places Around the World" for BBC television. His compositions have been chosen and recorded for several major musical libraries such as Music without Frontiers (Virgin Records). Big Life Music Library, Spanish Guitar Collection (Chappel Music) to mention but a few.